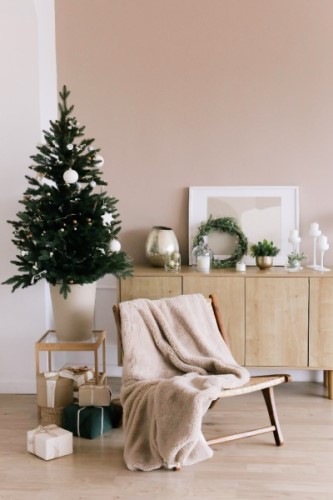 Every year holiday decorating starts earlier and earlier, and River Oaks is already setting up with its twinkling lights, ornaments, and holiday statues. Now it is time for you to bring the holiday season inside your River Oaks apartment without breaking the bank or overstuffing your space. Apartments are typically smaller spaces, but you don't need a three-bedroom house to decorate for the season. Follow these holiday decorating tips that are sure to transform your luxury apartment into a winter wonderland.
Front Door & Entryway
Make your apartment feel like the holidays before even stepping foot inside by adding a simple wreath to your entryway and front door. Get creative with wide holiday ribbon and turn your door into a giant wrapped gift. Add a few poinsettia plants and voila! – Holiday Season! Decorating your front door and entryway is the easiest way to add holiday cheer to your apartment.
O' Christmas Tree, O' Christmas Tree
First thing that comes to mind when thinking of holiday decorations is the Christmas tree. As an apartment owner, the follow up thought might be how you would even fit a tree in your apartment! While the go to idea is to get a mini tree, try out one of these creative tree ideas to conserve space:
Wall Christmas Tree
Taking up wall space only, a wall Christmas tree is great for small apartments and still brings all the holiday cheer. Plus, if decorating the tree is your favorite part about the holidays, this creative DIY project is perfect. Go traditional with garland and lights, or more minimalist with branches and ornaments, there are many ways to get creative with a wall Christmas tree, and no wrong way of doing one.
Christmas Tree in a Vase
Perfect for small spaces, creating a Christmas tree in a vase is easy and budget-friendly, only requiring evergreen clippings, ornaments, and a vase. You can use this tree idea as a centerpiece for your table or decoration for your counters. Wherever you decide to place it, a Christmas tree in a vase will take up minimal space but add the right amount of holiday décor to your apartment.
Light Up Your Plants
You might already have the perfect tree in your apartment now! Try hanging mini, battery-operated lights on your houseplants to serve as your tree this year. If you have large houseplants, hang lightweight mini ornaments on their branches to add more decorations to your space. Using your houseplants as a tree alternative is a super cute and cost-effective way to decorate your apartment this year.
Deck the Walls, Halls, Shelves & Windows
When it comes to small spaces, walls, halls, shelves, and windows are blank canvases waiting to be filled with holiday decorations. One easy way to transform your apartment for the holiday season is lights, lights, and more lights! String up twinkle lights in your hallways or windows to instantly add the holiday spirit in your home. Great thing about hanging lights is that they aren't taking up any additional space!
Spruce up the shelves in your River Oaks apartment with holiday cards and a few small bottlebrush trees for a quick and easy holiday décor look. Hang mistletoe in the door frames paired with holiday garland for another holly jolly idea. Windows are great for decorating by hanging ornaments, snowflakes, and garland too. There is no limit to what you can do with the white spaces in your apartment, get as festive and creative as you want!
Hanging Stockings
No mantel or fireplace? No problem! From shelves, bookcases, or chairs, your apartment is filled with great places to put your stockings on display. Hang your stockings on shelves or bookcases by using holiday heavyweight stocking holders or string the stockings on garland to hang on a wall. To showcase your stockings on the back of your bar stools or dining room chairs, use a holiday ribbon to tie them up.
If you have a standing or wall coat rack, use it to display your stockings as well as other décor items, like scarves or mini wreaths to add a unique holiday design in your apartment. There is no wrong way to hang a stocking for Christmas, so be sure to be as inventive as you like!
Balcony & Patio Décor
Again, not living in a house does not mean you can't transform your outdoor space into a winter wonderland. Your apartment's patio or balcony has great potential to creating a very festive area for the season. If space allows, put your Christmas tree outside this year and make sure to take advantage of the railing to hang icicle lights and a series of outdoor wreaths.
Go all out and string lights around the windows and door frames, add glowing candy canes, and a jolly snowman or Santa. Decorating your patio or balcony not only brings the holiday spirit to your apartment but to your neighbors too.
Other Small Touches to Add Holiday Cheer
While hanging lights, stockings, and ornaments are the most popular ways to decorate for the holidays, there are still plenty of ways to add subtle holiday touches to your apartment. Bring the Christmas joy to every room by a decorative holiday-scented candle or mini wreath to hang on the walls or cabinets.
Switch out your everyday pillowcases for more decorative covers in theme with the holiday! Add a plaid throw to your couch or comforter on your bed. Place poinsettias throughout your apartment as an easy and cost-effective way to add a small Christmas touch. Use extra counter space to create a DIY hot cocoa station that will surely impress your holiday guests. Adding small holiday décor to your apartment can go a long way to improve the holiday spirit in your home.
Ready to Decorate An Apartment in River Oaks
Reverie has apartments waiting to be transformed this holiday season, find the perfect home today! We offer an excellent selection of floor plans for studio, one-, two-, and three-bedroom apartments. View the apartment layouts, square footage, pricing, and availability all online! Feel free to start the application process or contact us to learn about lease specials and schedule a tour.