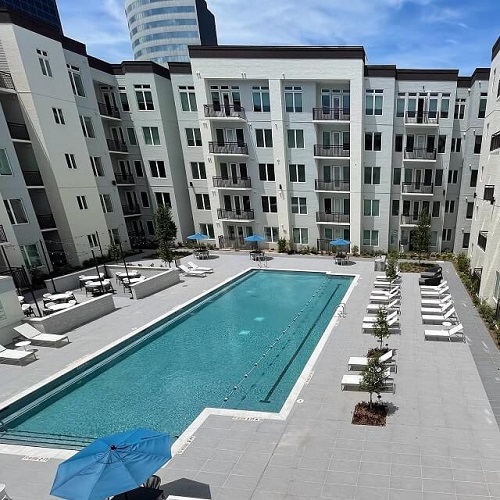 While the luxury amenities of Reverie at River Hollow apartments make it easy to fill your free time at home, we know it's also fun to go outside our community and do something different. If you are looking for things to do in Uptown Houston, you'll find a few ideas here.
Watch a Movie at Rooftop Cinema Club
With the Rooftop Cinema Club Uptown reopening and tickets now on sale, we will add it first on the list of fun things to do. Located on the rooftop of BLVD Place at 1700 Post Oak Blvd., minutes from Reverie apartments, this popular open-air rooftop movie venue, which temporarily closed last year, provides a cinematic experience under the stars with food, drinks, and amazing views. If you're a movie fan and appreciate being outdoors, you will love it!
Shopping at The Galleria & Uptown Park
If you recently relocated to Houston and haven't had a chance to check out The Galleria, make plans to do so. An international shopping and tourist destination, The Galleria houses hundreds of upscale stores, about 60 eateries ranging from fine dining to casual favorites, a children's play area that would get any kid excited, a full-sized ice rink, and more. You could easily spend days exploring all The Galleria's offerings.
While The Galleria is only 1.5 miles from our apartments, the trendy Uptown Park is even closer. Strolling through the high-end, open-air shopping center you'll find distinctive boutiques, eateries, wine bars and more. You can also catch events including trunk shows and live music at Uptown Park.
Experience the Waterwall
Gerald D. Hines Waterwall Park in Uptown, one of the city's most visited attractions, features a mesmerizing multi-story sculptural fountain you must see, if you haven't already. The serene sound of the water falling is a calming experience, especially at times when the park is not crowded, and the Waterwall makes a beautiful background for photos. While you're not allowed to get in the water, if you stand close enough you can feel the mist and could even get soaked.
Visit Memorial Park
For outdoor recreation, the nearby Memorial Park, the state's largest urban park, offers a variety of activities ranging from walking, running, hiking, and biking to playing tennis, volleyball, and croquet. There's an 18-hole golf course, considered one of the country's best municipal courses, and an indoor fitness center with swimming pool. If you want to go for a picnic, you'll find tables throughout the park. Before visiting, view helpful information about things to do at Memorial Park, including any updates and closures, provided by the Memorial Park Conservancy.
Other Fun Things to Do in Uptown near Reverie Apartments
The ideas provided above are only a few of the many fun things you can do in the area. For a more extensive list, see what's near our apartments in Uptown. We've mapped many offerings from entertainment, recreation and nightlife to eateries, shops, services and more to make it easy for you.
What's New in Uptown Houston
Living in Uptown Houston, you will find that there's often a new offering, whether it be a restaurant, boutique, entertainment venue, or other business opening in the area. For instance, JOEY Uptown, a new addition to the Canadian-based luxe restaurant group, recently opened at The Galleria. If you're looking for a new place to wine and dine, JOEY Uptown serves great food with excellent service for an exceptional dining experience indoors or on the restaurant's spacious, temperature-controlled patio.

If you're in the mood for something sweet, check out the new Van Leeuwen's Uptown Park ice cream shop. It features both dairy and vegan ice cream plus other tasty sweets that make you feel good.
All of Reverie's Amenities are Now Open
Reverie at River Hollow is also new! If you're looking for the best place to live in the area, browse through the selection of floorplans for our Galleria Uptown apartments for rent. All amenities are now open and accessible to residents.
We also have a Starbucks opening right across the street, which is a welcomed addition.

We'd love to give you a tour of our apartment community and help you find your ideal new home. Contact us now to learn more.