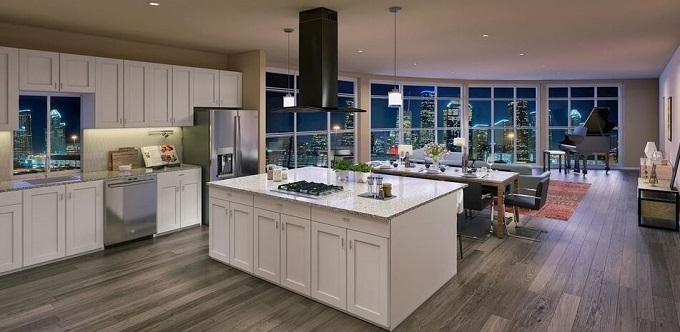 It is an exciting time at Reverie at River Hollow, the brand-new Uptown Post Oak apartments in Houston! Now open for move-ins, our luxury midrise apartment community is welcoming its first residents while the team shows others interested in moving to this popular Uptown area why Reverie is where they will want to live.
It is easy to do.
Consider the name, "Reverie". It explains why. The definition of the word is daydream, a state of being pleasantly lost in one's thoughts. The tranquil life here does feel like a daydream.
Whether you are just moving in, planning to, or are searching to find a new apartment in the Uptown Houston area, you can learn more about the Reverie and find helpful information here and throughout our website.
About Reverie at River Hollow
Reverie is a Fein community created by Martin Fein Interests, LTD., which means it is more than simply an apartment complex. For over 30 years, Fein has developed apartments of superior quality that combine architectural distinction, exceptional amenities, incomparable service, and modern conveniences.
Fein creates apartment homes people love to live in.
The Selection of Floor Plans
Reverie offers an excellent selection of floor plans for studio, 1, 2 and 3 bedroom apartments for rent. Square footage ranges from 558 in the studio apartment to the spacious 1,957 square foot two-bedroom, two-bath apartment with a study and powder room.
Does the idea of living in an apartment with impressive floor to ceiling windows sound appealing? Check out the A5 one-bedroom plan and F two-bedroom plan.
Want to live near Reverie's dog park and pet spa, or in an apartment overlooking the pool? From the Map View on our floorplans page you can see which plans to select from.
Regardless of which apartment you choose, it will deliver unsurpassed amenities.
The Luxury Apartment Amenities
You will love the amenities our new luxury apartments offer. In one of the two courtyards you can relax by the pool while grilling outdoors or take a few laps in the dedicated swim lane. Lounging outside on the 8th floor deck, you can take in the panoramic views of Memorial Park and Downtown Houston.
You will find a multitude of luxury amenities here to make your life more convenient, too. Valet parking, a parcel room with lockers, dry cleaning lockers, a bike storage and repair shop, and an Uber waiting lounge, are just a few.
Equipped with the ButterflyMX Smartphone Video Intercom, you can conveniently enter your home by voice when you connect your Alexa or Siri-enabled device. Video calling makes it easy to remotely grant guests access to the property from anywhere, and if you are expecting a package delivery, you can quickly provide access – all using your smartphone.
Each apartment offers exceptional interior finishes as well. Gourmet chef kitchens with custom designed islands and stainless steel appliances, large walk-in closets, full sized washer and dryer, and much more.
Premium Houston Location: Living in Uptown at Post Oak
Reverie provides premium residency in the popular 77027 area, just off 610 between I-10 and US 59. This trendy, Uptown Houston Post Oak area is one of the best places to live in Texas. It is the place to be.
With the heart of Uptown Park and the Galleria within walking distance, upscale shopping, dining and entertainment options are minutes away. See what's near these new Uptown apartments.
If you are new to Reverie, take a moment to browse through our site and learn more about all the community offers. Find your preferred apartment and contact us to ask about current specials. We look forward to welcoming you!